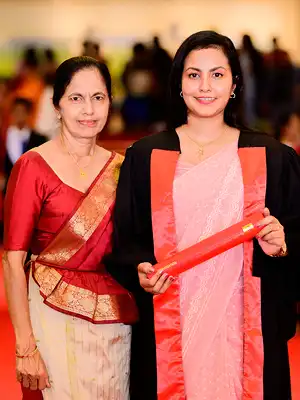 MANAGERIAL DIPLOMA IN HUMAN RESOURCE MANAGEMENT (MDipBAM) – ONLINE
This course of studies will enable the student to progress to an MBA
Distance / E Learning:
Distance / E Learning mode includes live lectures, downloadable recording of lectures, study packs, academic articles and other relevant video clips that will enrich and enhance the effectiveness of leaning. In addition there will be guidance on fulfillment of assignments and students could speak to lecturers via telephone Whatsapp for further guidance. There will be an assigned personal tutor who will be available at all times to support students with academic concerns and needs.online study
Is this the right course for YOU?
• You are ambitious, energetic and possess a strong desire to get to the top
• You feel you missed out on your higher studies at the right time…for whatever reason
• You now realize that qualifications are necessary on the journey to the top
• You feel your energy and enthusiasm levels are dwindling and perhaps mid-career crisis is setting-in
Why pursue this Qualification?
• To equip oneself with a qualification that will fulfill requirements at managerial level
• To provide the competencies required to integrate with other functions in the organisation
• To overcome career related obstacles, challenges and setbacks resulting in stagnation
• To prevent you being overtaken by youngsters with less experience but qualified
This qualification can lead you to…
• Enhance employment opportunities with greater recognition and remuneration
• Realize career progression as well as opportunities for migration and overseas employment
• Enable career transition and lateral movement
• Achieve a MASTER'S DEGREE of international repute
On successful completion of this course,
1. MDipBA could be stated after the name.
2. Immediate progression is available to pursue MBA or Masters' in HRM
Please speak to Student Counsellors for immediate progression benefits.
This Qualification is registered under Tertiary and Vocational Education Commission of Sri Lanka.
Students have the option of securing their award from Pearson – UK under the title 'Pearson Assured Managerial Diploma
Course Content 
Unit 1. Leadership and Organisation Behaviour
• Leadership, in Context and Applications
• Individual & Group Behaviour
• Organisational Communication and Leadership
• Structures and Cultures in organisations
Unit 2. Finance for Non Finance Managers
• Understanding Finance Statements and their implications
• Budgets: Preparation and Uses
• Product & Process Costing, techniques and applications
• Ratio Analysis: Interpretation and applications
Unit 3. Strategy and Entrepreneurship
• Strategic Thinking & Business Strategy
• Strategic Planning Framework & Models
• Strategy and Competitive Advantage
• Entrepreneurial Mindset & Strategy
Unit 4. Marketing Principles
• Marketing Concepts and Processes
• The Marketplace and Consumers
• Strategic Marketing and Connecting with Customers
• The Global Marketplace and Sustainable Marketing
Unit 5. Human Resource Management
• HR Concepts and Strategy
• People Resourcing and Rewards
• Performance Management
• Succession Planning, Talent and Career Development
Unit 6. Production and Operations Management
• Operations as a Competitive and Strategic Weapon
• Resource Planning, Process Management and Control
• Management of Quality and New Product Development
• Supply Chain Management and Inventory Management
Unit 7. Productivity Development
• Concepts of Productivity Development
• Tools and Techniques of Productivity Development
• Productivity Lessons to Learn from the Japanese
• Productivity vis-à-vis Competitive Advantage and Sustainability
Unit 8. Innovation Management
• Strategy and Innovation Management
• Creating a Culture of Innovation
• Concepts and Models of Innovation
• Barriers to Innovation and Managing Change
Unit 9. Project
Medium     : English Medium
Modes of Assessment : Assignments , Examinations and Presentations – Tested online
Entry Requirements:
5 years work experience with at least 2 years in Executive capacity OR
A Bachelor's Degree / Undergraduates / Part Professional Qualification OR
Diploma in HRM / Management / Accounting / Marketing / Psychology (Duration : Not less than 1 year) OR
5 years as a Commissioned Officer in Sri Lanka Army / Navy / Air Force / Police
Duration : 9 months
Mode of Delivery : Online
Schedule :
1st Weekend –  and 2nd Weekend – Saturday and Sunday
from 4.00 pm to 8.00 pm
COMMENCEMENT :
Fee
Fee applicable to Sri Lankan Passport Holders Resident Overseas:
Course Registration Fee and E Library Fee : GBP 200
Course Fee : GBP 325 x 2 Installments = GBP 650 ( 1st Installment to be paid at the beginning and 2nd Installment to be paid at the commencement of the 4th Month)
Pearson Registration Fee (Optional): GBP 75 (To be paid to HRMI on the 2nd month)
Fee applicable to Foreign Students:
Course Registration Fee and E Library Fee : GBP 200
Course Fee : GBP 490 x 2 Installments = GBP 980 ( 1st Installment to be paid at the beginning and 2nd Installment to be paid at the commencement of the 4th Month)
Pearson Registration Fee (Optional): GBP 75 (To be paid to HRMI on the 2nd month)
(94) 768 287 002 /
(94) 772 204 101 /
(94)  712 724 425
Viber / Whatsapp:(94) 768 287 002