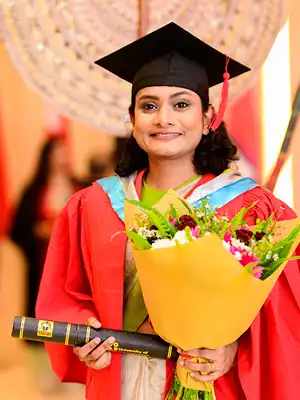 Entire course delivered online and accessible at your convenience 
All Assessments can be completed online 
The Advanced Certificate in HRM is a unique programme of study which provides an overall understanding of the operational aspects of HRM. This qualification will enable a newcomer to comfortably integrate into a HR department and start work effectively. In addition to learning all aspects of HRM, students gain a broad understanding of Sri Lanka Labour Law, Disciplinary Procedures and Occupational Safety and Health.
Knowledge gained in this course can be directly applied at work, thus providing a distinctive advantage for a student to prove his/ her competencies. This course provides the foundation for professional development and serves as an entry qualification for an executive position in HR.
For whom is this Course? 
For School Leavers who wish to learn all about HR comprehensively without wasting time and money on foundation courses.
A must knowledge for any Executive or Manager.
For anyone managing people in whatever the function in any sector or industry as knowledge of HRM is a prerequisite for career progression and advancement.
For someone who would want to know about HRM at an affordable cost on a schedule which has 24×7 convenient access.
HRMI 24 x 7 Online Learning : 
This course is accessible 24×7 to suit individual convenience of students living in Sri Lanka or anywhere in the world.
The standard duration of the course is 4 months. However, a student can complete the course within a duration of 3 months on request. In such cases, the student will be provided with a personalised learning schedule.
The syllabus is identical to our regular courses conducted at HRMI.
The student is considered as a regular on-campus student.
The entire learning and assessments can be done online.
Course Content 
    Management Module
Introduction to Management
Theories of Leadership & Motivation
Skills of Communication & Team Development
    Human Resource Management Module
Introduction to HRM
HR Planning
Job Analysis,Job Descriptions and Job Specifications
Recruitment & Selection
Induction & Orientation
Training & Development
Performance Management
Remuneration & Rewards
    Industrial Relations Module
Introduction to Sri Lanka Labour Law
Conflict Handling & Grievance Procedures
Disciplinary Procedures
Occupational Health & Safety
IR in Practice
    Special Topics 
Strategic HRM
Corporate Social Responsibility
Green HRM
Basics of HR Analytics
Medium     : English Medium
• G.C.E. (O/L) 6 passes with Mathematics & English OR
• 1 year Work Experience OR
• GCE A/L OR
• Pearson BTEC Level 3
Standard Duration : 4 months. However, a student can complete the course within a duration of 3 months on request.
Commencement : 09th December 2023
Course Registration Fee: Rs. 5,000
Course Fees :
• Option 1: Paid in 2 installments : Rs. 15,000 a month x 2
• Option 2: Paid in Full at the start: Rs. 28,500
Social Security Contribution Levy (SSCL) of 2.5 % would be charged on all above fees

Fee applicable to Candidates Resident Overseas:  
• Registration Fee and Course Fee : USD 150 – To be paid at the Registration
Social Security Contribution Levy (SSCL) of 2.5 % would be charged on all above fees
For more information:  077 2204101 / 071 2 724425