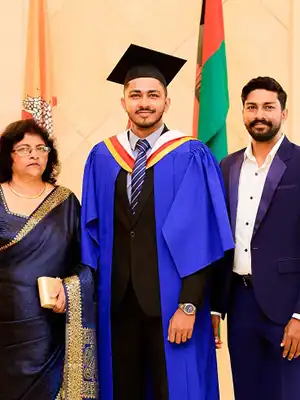 BSc (Hons) INTERNATIONAL ACCOUNTING DEGREE 
Awarded by University of Northampton, UK
Recognised by the University Grants Commission (UGC) Sri Lanka.
The Northampton International Accounting BSc Honours Degree will help students gain the skills in Financial Management and Management Accounting that are essential learning to be an Accounting Professional.
This Degree allows students to develop skills that are fundamental to evaluating, analyzing and communicating the financial position of an organisation or individual. In addition, students will gain competencies in Business Strategy, Financial Strategy, Corporate Governance, and International Tax Systems. Students will also learn about Risk Management and Business Investment.
This degree will broaden your career choices. Graduating with an extensive corporate accounting learning together with a good understanding of Marketing, Operations Management, Project Management, Business Law, and Innovation and Commercialization will enable you to enhance your career options whilst enabling you to effectively fit into any corporate role.
Students with degrees in international accounting find highly rewarding work in industry, commerce, the public sector, the financial industry or business consulting and public accounting. This course is a pathway to a professional accounting qualification and one which is frequently listed for Skills Migration in many countries.
We are ready to help you with an internship training opportunity no sooner you are ready to work. Prior to completion of your Degree, you should be looking at doing at least a 6-month internship which will enable you to start your career as a Business Executive.
Degree Awarding Institution : University of Northampton (UON) – UK
Programme Structure:
Degree programme will take 30 months for Part-time and students are required to successfully complete 15 modules during the first 2 years. On completion of this segment, students will be awarded Pearson Assured Diploma and thereafter progress to the Final Year for the award of the Bachelor's Degree (BSc-Honours) from the University of Northampton.
Modules of Study:
Year 1 and 2
Business and the Business Environment
Management Accounting
Financial Management
Innovation and Commercialisation
Marketing Essentials
Human Resource Management
Management and Operations
Managing a Successful Business Project
Business Law
Research Project
Organisational Behaviour
Financial Reporting
Advanced Management Accounting
Statistics for Management
Business Strategy
Final Year
Accounting Project
International Money and Finance
Financial Strategy
Corporate Governance
International Tax Systems
International Financial Reporting and Analysis
Medium: English
Entry Requirements
– GCE (A/L) 3 passes – any Stream with English and Mathematics at O/L OR
– GCE (O/L) with a Degree Foundation Course OR
– Certificate in HRM / Business Management from HRMI / IPM / NIBM OR equivalent OR
– GCE (O/L) with English & Mathematics and 2 years work experience
PART TIME BATCH: English Medium : Sundays from 8.45 am to 4.30pm
(Duration 30 Months)
COMMENCEMENT: 
 Registration Fee
 Rs. 25,000 (Including E-library Fee) and
 University       Registration Fee
 GBP 750 – to be paid at the beginning of 23rd month from   course commencement  (Direct Payment to the University by   the Student) and
  Course Fee: (Please select one) 
  Option 1
 Pay Monthly = Rs. 39,000 x 30 installments : Rs. 1,170,000
  Option 2
 Pay Annually= Rs. 375,000 x 3 : Rs. 1,125,000
  Option 3
 Pay in Full   = Rs. 1,055,000
Social Security Contribution Levy (SSCL) of 2.5 % would be charged on all above fees except for direct payments made by students to the University
Please Call:  0770 520 250 / 0776 795 074 / 077 220 4101
Distance Guided Learning may be available on request :
Whatsapp: 94 772204101