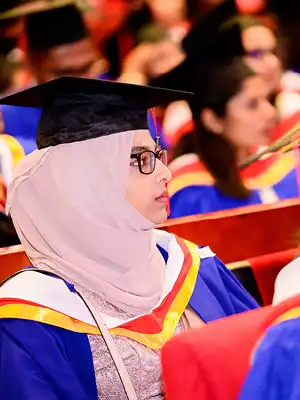 BSc (Hons) PSYCHOLOGY DEGREE 
Recognised by University Grants Commission – Sri Lanka
An interesting degree in which you will study wellbeing, happiness and what makes life most worth living. In a very complex world, it is absolutely relevant to learn how understanding psychology can bring about a positive change in countless aspects of everyday and professional life. This change can be seen in social and business development, education, communication, mental health, crime and the clinical contexts.
You will learn about Positive Psychology, Developmental Psychology, Social Psychology in addition to Contemporary Issues in Psychology, Industrial and Organisational Psychology and Psychological Assessments. You will gain insights into personality and individual differences and explore the human mind and how our thoughts, feelings and beliefs motivate and influence our behaviour.
Employment opportunities for Psychology graduates exist across many sectors. These include education institutions, corporate and industrial organisations, hospitals, law enforcement agencies. international organisations, NGOs, development and compliance agencies.
Our tutors are qualified and passionate about relating psychology to real life situations in corporates as well as in the community. They are committed and driven to inspire future generations who want to make a difference to society.
Programme Structure:
The entire course of study will take 30 months. Students are required to study 14 modules during the first 2 years. On completion of this segment, students will be awarded Pearson Assured International Diploma in Counselling and Psychology. Thereafter, students will be registered with the University of Northampton UK for the Final Year of BSc (Hons) Psychology Degree. Students will pursue 4 modules and will be engaged in a project in the final year.
Modules of Study:
Year 1 and 2 
Academic Proficiency
Human Mind and Behaviour
Introduction to Counselling
Applying Psychology
Psychological Assessments
Positive Psychology
Research Methods and Design
Contemporary Issues in Psychology
Industrial and Organisational Psychology
Counselling in Practice
Research Project
Social Psychology, Personality and Individual Differences
Developmental Psychology
Cognitive Neuroscience
Final Year
Psychology Dissertation
The Psychology of Mental Health
The Psychology of Health
Lifespan Development
Applying Positive Psychology
Medium : English Medium
Entry Requirements
– GCE (A/L) 3 passes – any Stream with English and Mathematics at O/L OR
– Pearson BTEC Level 3 OR
– GCE (O/L) with a Degree Foundation Course OR
– Certificate in Psychology /  HRM / Business Management from a recognised institution OR equivalent OR
– GCE (O/L) with English & Mathematics and 2 years work experience
Kindly note that a Credit pass in CGE OL for Maths is compulsory 
PART TIME BATCH: Sunday from 8.45am to 4.30pm
(Duration 33 Months)
COMMENCEMENT: 28th January 2024
PART-TIME STUDY          
 Registration Fee
 Rs. 25,000 (Including E-library Fee) and
 University       Registration Fee
 GBP 750 – to be paid at the beginning of 23rd month from   course commencement  (Direct Payment to the University by   the Student) and
  Course Fee: (Please select one) 
  Option 1
 Pay Monthly =  Rs. 35,475 x 33 installments : Rs. 1,170,675
  Option 2
 Pay Annually=  Rs. 375,000 x 3 : Rs. 1,125,000
  Option 3
 Pay in Full   =  Rs. 1,055,000
Social Security Contribution Levy (SSCL) of 2.5 % would be charged on all above fees except for direct payments made by students to the University
Please Call: 077 2204101 / 071 2 724425
Distance Guided Learning may be available on request : Whatsapp: 94 772204101