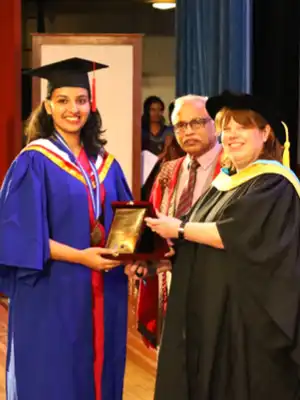 BSc (Hons) HUMAN RESOURCE MANAGEMENT AND ORGANISATIONAL BEHAVIOUR DEGREE 
BSc (Hons) HUMAN RESOURCE MANAGEMENT AND ORGANISATIONAL BEHAVIOUR DEGREE
Recognised by University Grants Commission – Sri Lanka
Managing People is the fundamental driver of creating a sustainable competitive advantage in any organisation. Today, HR acts beyond attraction, development, and retention of people. HR is at the core of engaging people, enhancing performance, and enabling everyone to think differently.  This HR Degree provides the specialist knowledge required to manage the HR function whilst covering all aspects of an organisation. It covers both the Operational HR and Strategic HR together with some interesting learning involving green HRM and Sustainability , HRIS and HR analytics.
For those who derive an intrinsic satisfaction out of helping people reach their potential, and for those who believe that HR is the primary driver in making or breaking an organisation, this could be the learning you will enjoy and relish.
We are ready to help you with an HR internship training opportunity no sooner you are ready to work. Prior to completion of your Degree, you should be looking at doing at least a 6-month internship which will enable you to start your career as an HR Executive.
In order to ensure that our students will possess a competitive advantage in the employment arena, our students will attend several workshops on Leadership Challenge, Strategy, and Innovation which will be enriched by corporate leaders. This exposure will strengthen their learning and facilitate networking opportunities.
You can embark on a HR Generalist Role or decide on a sub-specialty that involves,
Compensation and Benefits Recruitment and Staffing
Learning Development Employee Relations · Employee Engagement
Performance Management Labor Laws and Legal Compliance.
Programme Structure:
The entire course of study will take 30 months. Students are required to study 15 modules during the first 2 years. On completion of this segment, students will be awarded Pearson Assured International Diploma in Human Resource Management. Thereafter, students will be registered with the University of Northampton UK for the Final Year of BSc (Hons) Human Resource Management and Organisational Behaviour Degree. Students will pursue 5 modules and will be engaged in a project in the final year.
Modules of Study:
Year 1 and 2 
Business & Business Environment
Marketing Processes & Planning
Human Resource Management
Leadership & Management
Accounting Principles
Managing a Successful Business Project
Business Law
Innovation & Commercialisation
Research Project
Organisational Behaviour
Resource & Talent Planning
Employee Relations
Strategic HRM
Business Strategy
Developing Individual, Team & Organisation
Final Year 
Human Capital Management
Green HRM & Sustainability
Organisational Culture and Behaviour
HR Analytics and HRIS
Human Resource Professional Practices and Standards
Research Project: Analysis of a Contemporary Issue in HRM
Mode of Assessment: Assignments / Examinations / Presentations
Medium : English Medium
Entry Requirements
– GCE (A/L) 3 passes – any Stream with English and Mathematics at O/L OR
– GCE (O/L) with a Degree Foundation Course OR
– Certificate in HRM / Business Management from HRMI / IPM / NIBM OR equivalent OR
– GCE (O/L) with English & Mathematics and 2 years work experience
PART TIME BATCH: English Medium : Sundays from 8.45 am to 4.30pm
(Duration 30 Months)
COMMENCEMENT: 
 Registration Fee
 Rs. 25,000 (Including E-library Fee) and
 University       Registration Fee
 GBP 750 – to be paid at the beginning of 20th month from   course commencement  (Direct Payment to the University by   the Student) and
  Course Fee: (Please select one) 
  Option 1
 Pay Monthly = Rs. 39,000 x 30 installments : Rs. 1,170,000
  Option 2
 Pay Annually= Rs. 375,000 x 3 : Rs. 1,125,000
  Option 3
 Pay in Full   = Rs. 1,055,000
Social Security Contribution Levy (SSCL) of 2.5 % would be charged on all above fees except for direct payments made by students to the University
Please Call:  0770 520 250 / 0776 795 074 / 077 220 4101
Distance Guided Learning may be available on request :
Whatsapp: 94 772204101