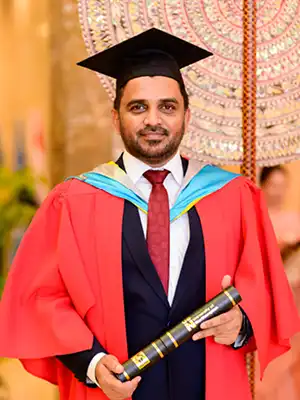 MSc ACCOUNTING AND FINANCE
Direct Entry into Research Stage
Awarded by University of Northampton – UK 
Recognised by the University Grants Commission (UGC) Sri Lanka.
Our MSc Accounting and Finance (Top-up) aims to build on the understanding and competencies gained via professional qualifications enabling the learners to think strategically from a financial perspective. The prestigious Northampton Finance Masters will strengthen your CV and differentiate yourself from your peers. Furthermore, a Master's in Finance will add an incomparable advantage in migration eligibility and to secure top-level international Finance or Accounting positions.
This is a unique opportunity for qualified accountants to secure a master's qualification in a short period of 6 months. There is only one 60-cerdit module involving a 15,000-word finance related research.
The 'Accounting & Finance Dissertation' guides you to research into the key challenges accounting and finance professionals face in the industry. The Research Methods component provides you with an introduction to dissertation writing, research methodology, formulating and planning a research project, data collection, analysis and presentation of research findings based upon an actual finance focused topic. You will learn all about research tools and techniques.
Duration: 6 months
One 60-Cerdit Module : Dissertation and Research Methods
Course Content:
There is only one module for this programme: Dissertation and Research Methods (60 credits)
Entry Requirements:
– Professional Membership from CA Sri Lanka, CIMA – UK, ACCA – UK,  CPA Australia OR Equivalent
– International equivalents such as OTHM / Qualifi – Level 7 Diploma in Accounting and Finance (RQF)
Schedule: Saturday from 4.00 pm to 8.00 pm
Duration: 6 Months + 6 weeks orientation
COMMENCEMENT : 27th January 2024
Course Registration Fee: Rs. 25,000
Course Fees : Rs. 41,250 x 6 installments = Rs. 247, 250                                                                                                                                                                                      GBP 750 (Direct payment to the University by the student by December)
1st Installment to be paid at the course commencement
Social Security Contribution Levy (SSCL) of 2.5 % would be charged on all above fees except for direct payments made by students to the University
Fee applicable to Overseas Sri Lankans:
Course Registration Fee and E Library Fee : GBP 200 and
University Registration Fee : GBP 750 (Direct Payment to the University by the Student by December)
Course Fee: GBP 850
Installment Plan:
1st Installment at the course commencement    : GBP 425
2nd Installment at the beginning of 4th Month : GBP 425
Social Security Contribution Levy (SSCL) of 2.5 % would be charged on all above fees except for direct payments made by students to the University
Course fee: Students have the option of paying the course fee in LKR
Fee applicable to Non Sri Lankan Passport Holders:
Course Registration Fee and E Library Fee : GBP 200 and
University Registration Fee : GBP 750 (Direct Payment to the University by the Student by December)
Course Fee: GBP 1,300
Installment Plan:
1st Installment at the course commencement     : GBP 650
2nd Installment at the beginning of 4th Month : GBP 650
Social Security Contribution Levy (SSCL) of 2.5 % would be charged on all above fees except for direct payments made by students to the University
Please call:  (+94) 76 828 7002 / 77 220 410 / 712 724 425