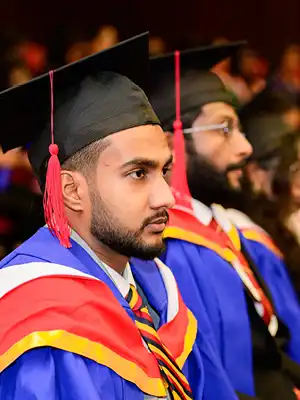 BSc (Hons) PROJECT MANAGEMENT DEGREE 
Awarded by University of Northampton, UK
Recognised by the University Grants Commission (UGC) Sri Lanka. 
Project managers are increasingly in demand. Every industry has the need for project managers and employers seek qualified project management specialists. The Project Management degree will lead to positions in operations management, supply chain management or to work as project managers. This might be an IT project, a construction project, or anything in between. A project manager must manage tasks throughout the project—from conception to completion. Tasks may include defining goals, creating, and maintaining schedules, establishing and monitoring budgets, delegating tasks to other team members, monitoring project process, and wrapping tasks up on time.
This Project Management course covers a range of project and application areas to showcase the most effective methods of project initiation, planning, execution, and close-out. Throughout the course of this Project Management degree, you will learn world-wide best practices together with how effective and efficient management of projects contribute to organizational success.
The BSc (Hons) Project Management degree benefits from two principal points of differentiation. First, it is sector-neutral, focusing on the application of project management methodologies to multiple sectors whilst drawing examples from a range of contexts. Second, a clear focus on individual and organizational responsibility for successful management of projects is embedded throughout the course.
Students will gain a number of transferable skills that you could apply in executive and managerial roles.
Strategic thinking and innovative skills
Analytical, critical and reflective thinking skills
Problem-solving and decision-making skills
Numeracy and the ability to research, interpret and use business and financial data
Self-reliance and the ability to manage time, projects and resources
Appreciation of the causes and effects of economic and other external changes.
We are ready to help you with an internship training opportunity no sooner you are ready to work. Prior to completion of your Degree, you should be looking at doing at least a 6-month internship which will enable you to start your career as a Business Executive.
In order to ensure that our students will possess a competitive advantage in the employment arena, our students will attend several workshops on Leadership Challenge, Strategy, and Innovation which will be enriched by corporate leaders. This exposure will strengthen their learning and facilitate networking opportunities.
Programme Structure:
Whilst the entire Degree programme will take 30 months for Part-time and 27 months for Full-time, students are required to successfully complete 15 modules during the first 2 years. On completion of this segment, students will be awarded Pearson Assured International Diploma in Business and Management and thereafter progress to the Final Year for the award of the Bachelor's Degree (BSc – Honours) from University of Northampton.
Modules of Study:
Year 1 and 2
Business & Business Environment
Project Management Essentials
Marketing Essentials
Human Resource Management
Management and Operations
Management Accounting
Managing a Successful Business Project
Business Law
Project Management in Engineering
Business Strategy
Organisational Behaviour
Developing Individual, Team & Organisation
Managing Finances and Resources in Projects
Project Management Tools and Software
Business Project
Final Year
Project Organisations and Management
Project Planning
Sustainability and Risk Management
Digital Project Management
Leading Project Teams
Research Project
Mode of Assessment: Assignments / Examinations / Presentations
Medium: English
Entry Requirements
– GCE (A/L) 3 passes – any Stream with English and Mathematics at O/L OR
– GCE (O/L) with a Degree Foundation Course OR
– Certificate in HRM / Business Management from HRMI / IPM / NIBM OR equivalent OR
– GCE (O/L) with English & Mathematics and 2 years work experience
PART TIME BATCH: English Medium : Sundays from 8.45 am to 4.30pm
(Duration 30 Months)
COMMENCEMENT:  
PART-TIME STUDY           : 30 MONTHS
 Registration Fee
 Rs. 25,000 (Including E-library Fee) and
 University       Registration Fee
 GBP 750 – to be paid at the beginning of 23rd month from   course commencement  (Direct Payment to the University by   the Student) and
  Course Fee: (Please select one) 
  Option 1
 Pay Monthly =  Rs. 39,000 x 30 installments : Rs. 1,170,000
  Option 2
 Pay Annually=  Rs. 375,000 x 3 : Rs. 1,125,000
  Option 3
 Pay in Full   =  Rs. 1,055,000
Social Security Contribution Levy (SSCL) of 2.5 % would be charged on all above fees except for direct payments made by students to the University
Educational support facility from banks:  Mr. Sudesh, National Development Bank – 077 350 1198
Please Call: 077 2204101 / 071 2 724425