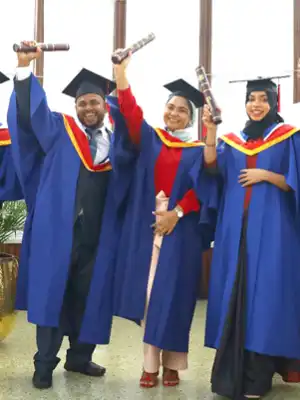 BA (Hons) INTERNATIONAL LOGISTICS & TRADE FINANCE DEGREE 
BA (Hons) INTERNATIONAL LOGISTICS & TRADE FINANCE Degree
Awarded by University of Northampton, UK
Recognised by the University Grants Commission (UGC) Sri Lanka.
A Degree in International Logistics and Trade Finance is an uncommon Business degree and therefore more in demand for local as well as overseas employment. Jobs in Logistics and Trade Finance are directly related to major companies and developed countries and consequently command high salaries.
Logistics encompasses many events and activities between point of origin and point of consumption of a product or service. This includes inbound and outbound transportation management, fleet management, warehousing, materials handling, order fulfilment, logistics network design, inventory management, supply and demand planning, third-party logistics management, and other support services.
The course aims to equip students with the knowledge and skills that you require to become effective logistics and supply chain managers. The course not only aims to develop skills in logistics from an international perspective but also provides you with knowledge and understanding of economic, political and financial risk factors affecting the world economy.
The course is highly recommended for those who may be interested in following an international career in transport, supply chain management and commerce.
Programme Structure:
Whilst the entire Degree programme will take 30 months for Part-time, students are required to successfully complete 15 modules during the first 2 years. On completion of this segment, students will be awarded  Pearson Assured International Diploma in Business and Management and thereafter progress to the Final Year for the award of the Bachelor's Degree (BA – Honours) from the University of Northampton-UK.
Modules of Study:
 Year 1 and 2 
Business and the Business Environment
Supply Chain Management Essentials
Marketing Essentials
Human Resource Management
Management and Operations
Management Accounting
Global Supply Chain Management
Managing a Successful Business Project in Supply Chain and Logistics
Business Law
Research Project – Supply Chain and Logistics
Organisational Behaviour
Supply Chain Management Strategies
Business Strategy
Developing Individuals, Teams and Organisations
Final Year  
Research Project
Supply Chain Operations Management
Logistics Solutions
International Trade Finance
Credit Risk Management
Import & Export Management
Medium : English Medium
Entry Requirements
– GCE (A/L) 3 passes – any Stream with English and Mathematics at O/L OR
– GCE (O/L) with a Degree Foundation Course OR
– Certificate in HRM / Business Management from HRMI / IPM / NIBM OR equivalent OR
– GCE (O/L) with English & Mathematics and 2 years work experience
PART TIME BATCH: English Medium : Sundays from 8.45 am to 4.30pm
(Duration 30 Months)
COMMENCEMENT: 
 Registration Fee
 Rs. 25,000 (Including E-library Fee) and
 University       Registration Fee
 GBP 750 – to be paid at the beginning of 23rd month from   course commencement  (Direct Payment to the University by   the Student) and
  Course Fee: (Please select one) 
  Option 1
 Pay Monthly = Rs. 39,000 x 30 installments : Rs. 1,170,000
  Option 2
 Pay Annually= Rs. 375,000 x 3 : Rs. 1,125,000
  Option 3
 Pay in Full   = Rs. 1,055,000
Social Security Contribution Levy (SSCL) of 2.5 % would be charged on all above fees except for direct payments made by students to the University
Please Call:
077 2204101 / 071 2 724425