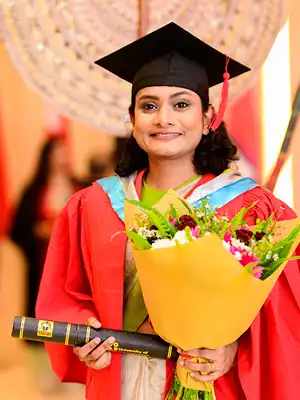 DIRECT ENTRY INTO RESEARCH STAGE OF MBA
Recognised by the University Grants Commission (UGC) Sri Lanka.
Advanced entry pathway enables a student who holds a UK QCF Level 7 qualification with at least 120 credits or an equivalent, to directly enrol on the Research Stage of the MBA.
WHAT SHOULD YOU BE LOOKING IN AN MBA?
MBAs are amongst the most popular degrees in the world. The Harvard University established the first MBA programme in 1908. Since then, many thousand institutions & universities award MBAs. Amongst these are unscrupulous institutions which award bogus or fake MBAs or claim dubious ranking. A Google search could provide many insights into unaccredited MBAs which offer low cost Degree certificates & transcripts.
When embarking on a MBA, a prospective student must establish without a doubt the credentials of the awarding institution and its academic reputation. The esteem & admiration, recognition & respect for a qualification are derived from the awarding institution.
The University of Northampton – UK
The MBA is awarded by University of Northampton – UK which is recognised by the University Grants Commission (UGC) Sri Lanka.
Duration: 6 months
Research Stage: 60 Credits
1. Major Project :
The students will engage in an original research project associated with topics and themes from the MBA programme. It's an opportunity for learners to identify, select and analyse secondary data in innovative ways for applied research in business and management contexts.
2. Practical Data Analysis for Business :
This module will enable learners to effectively utilise secondary data to inform organisational proposals and decisions. Learners will be equipped with the skills required to acquire, manage, analyse and apply qualitative and quantitative secondary data sets.
3. Strategy and Decision Making ;
Learners will analyse how the dynamic internal and external business environment impacts on the component elements of organisations, and how organisations seek competitive advantage through strategy and decision-making.
Entry Requirements
UK QCF Level 7 qualification or an equivalent with 120 credits
CIMA – UK Membership (ACMA / FCMA)
Other Postgraduate qualifications from recognised university or Professional Institution which can be mapped as equivalent
Lecture Schedule: Online
Academic Duration: 6 Months + 6 Weeks Orientation
COMMENCEMENT: 16th December 2023
Fee
Registration Fee: Rs. 25,000
Course Fees : Rs. 41,250 x 6 installments = Rs. 247,500 + GBP 750 ( Direct payment to the University by the student by Mid January 2024) 1st Installment to be paid at the course commencement
Social Security Contribution Levy (SSCL) of 2.5 % would be charged on all above fees except for direct payments made by students to the University
Fee applicable to Sri Lankan Passport Holders Resident Overseas:
Course Registration Fee and E Library Fee : GBP 200 and
University Registration Fee : GBP 750 : Direct Payment to the University by the Student by mid January 2024
Course Fee: GBP 850
Installment Plan:
1st Installment at the course commencement  : GBP 425
2nd Installment at the beginning of 4th Month : GBP 425
Social Security Contribution Levy (SSCL) of 2.5 % would be charged on all above fees except for direct payments made by students to the University
Fee applicable to Non Sri Lankan Passport Holders:
Course Registration Fee and E Library Fee : GBP 200 and
University Registration Fee : GBP 750 : Direct Payment to the University by the Student by mid January 2024
Course Fee: GBP 1,300
Installment Plan:
1st Installment at the course commencement  : GBP 650
2nd Installment at the beginning of 4th Month : GBP 650
Social Security Contribution Levy (SSCL) of 2.5 % would be charged on all above fees except for direct payments made by students to the University
Please Call: 077 2204101 / 071 2 724425
Distance Guided Learning : Whatsapp: 94 772204101