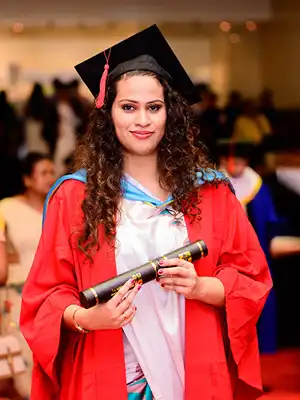 MASTER OF BUSINESS ADMINISTRATION (MBA)
Target Group 2: Graduates (Any Discipline) 
Awarded by University of Northampton – UK
Recognised by the University Grants Commission (UGC) Sri Lanka.
The Northampton MBA is designed for visionary managers and executives who are committed to break career barriers and reach the top. The MBA at HRMI is a no-nonsense unique programme of senior management competency development that offers a robust curriculum and an immersive learning experience.
It's an intensive programme differentiated by design and delivery to enable career progression. The exposure to Strategy, Innovation, International Business and Entrepreneurship makes the Northampton MBA at HRMI unique and absolutely enlightening for aspirant top-managers. It's delivered by a highly respected panel of industry experts in an interesting and interactive format.
You will learn to think laterally, challenge convention and offer informed solutions to business issues. You will gain valuable skills that will set you apart from an average MBA holder. Northampton MBA will differentiate you and enable you to achieve full career potential.
HRMI is committed to real learning and development of the student. HRMI provides comprehensive student support, personal tutors and extensive guidance to enable a student to develop academic writing and research skills. This level of facilitation has not only enabled HRMI MBA students to 'pass-first-time' but also to accomplish the MBA with Distinctions and Merits.
This programme has 11 modules including the Research Project
1. Skills for MBA Study:
The purpose of this module is to equip learners with the skills and confidence to successfully navigate the critical and analytical demands of master's level academic study. Learners will reflect upon their previous study experiences and learning transitions, situating these experiences in the context of relevant academic literature.
2. Career Futures:
Learners will gain extensive insights into employability and changemaker skills essential for effective performance in management roles.
3. Measuring Organisational Performance:
This module enables learners to discover different organisation types and structures, and the strategic interrelationships between business functions and processes, and organisational performance.
4. Strategy and Decision Making:
Learners will analyse how the dynamic business environment impacts on the elements of organisations, and how organisations seek competitive advantage through strategy and decision-making.
5. Digital Business:
Learners will understand the role of digital technologies in society and it's value adition towords competitive advantage and enhanced performance in organisations.
6. Ethical and Responsible Leadership:
This module enables learners to recognise, develop and apply responsible leadership qualities and skills, in line with the United Nations Principles for Responsible Management Education (PRME). Learners will consider how ethical and responsible leadership behaviours contribute towards creating ethically responsible organisations in dynamic business environments.
7. Economic Analysis and Value:
The purpose of this module is to enable learners to make strategic decisions considering critical issues faced by organisations in today's complex and challenging environment.
8. Enterprise in the Circular Economy Value Chain:
This module engages learners with the principles of the circular economy. Learners will examine how organisations use and apply these principles, considering how they impact on business problem appraisal, decision-making, strategy and culture in the context of a 'farm fork' food value chain.
9. Practical Data Analysis for Business:
This module will enable learners to effectively utilise secondary data to inform organisational proposals and decisions. Learners will be equipped with the skills required to acquire, manage, analyse and apply qualitative and quantitative secondary data sets.
10. Marketing Innovation:
The purpose of this module is to take a visionary approach and equip learners with innovation knowledge and skills, to deal with the challenges of a fast-moving marketplace, supporting growing organisations in their marketing, where creativity is a driver of innovation and change.
11. Major Project:
The learners will engage in an original research project associated with topics and themes from the MBA programme. It's an opportunity for learners to identify, select and analyse secondary data in innovative ways for applied research in business and management contexts.
Entry Requirements
– Bachelor's Degree (Any discipline) OR
– CIMA Advanced Diploma in Management Accounting OR
– Recognised Professional Qualification OR
– Any other Qualification deemed equivalent to the above and recognised by the University
Lecture Schedule: Sunday from 4.00 pm to 8.00 pm
Academic Duration: 15 months
COMMENCEMENT: 15th June 2024 
Course Registration Fee: Rs. 30,000 Including E-Library Fee
Course Fee :
Rs. 375,000 – Can be paid in 15 Installments of Rs. 25,000 : 1st Installment to be paid at the commencement
University Registration Fee: GBP 1,100 – Direct payment to the University by the Student at the beginning of 2nd month
Social Security Contribution Levy (SSCL) of 2.5 % would be charged on all above fees except for direct payments made by students to the University
Please call for more details:
(+94) 76 828 7002 / 077 224101 / 071 2724425