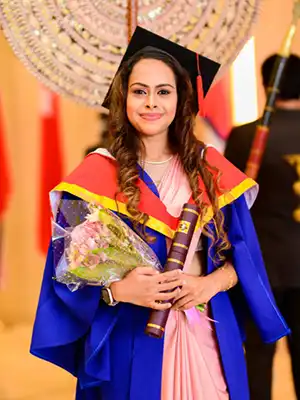 BSc (Hons) BUSINESS MANAGEMENT AND STRATEGY DEGREE 
Recognised by the University Grants Commission (UGC) Sri Lanka.
Studying for a business management degree allows you to develop a broad understanding of business organisations and provides you with subject-specific knowledge in areas such as Marketing, Supply Chain Management, Operations, Business Policy and Strategy. This multi-disciplinary knowledge enables a student to be employed in any division of an organisation. The learning provides in-depth insights into what each division does.
Modules like Innovation and Commercialization, Global Business Environment, Operations and Project Management and Developing Cross-Cultural Capability are uncommon and thus provides an edge to the learner. Business issues are often addressed from an international perspective. Students will fulfil two Research projects that will contribute to their critical thinking skills and develop their own contribution to the resolution of a selected business issue.
Students will gain a number of transferable skills that you could apply in executive and managerial roles.
Strategic thinking and innovative skills
Analytical, critical and reflective thinking skills
Problem-solving and decision-making skills
Numeracy and the ability to research, interpret and use business and financial data
Self-reliance and the ability to manage time, projects and resources
Appreciation of the causes and effects of economic and other external changes
Changemeker Skills
We are ready to help you with an internship training opportunity no sooner you are ready to work. Prior to completion of your Degree, you should be looking at doing at least a 6-month internship which will enable you to start your career as a Business Executive.
Programme Structure:
The entire course of study will take 30 months. Students are required to study 15 modules during the first 2 years. On completion of this segment, students will be awarded Pearson Assured International Diploma in Business and Management. Thereafter, students will be registered with the University of Northampton UK for the Final Year of BSc (Hons) Business Management and Strategy Degree. Students will pursue 5 modules and will be engaged in a project in the final year.
Modules of Study:
Year 1 and 2
Business & Business Environment
Marketing Essentials
Human Resource Management
Management and Operations
Management Accounting
Managing a Successful Business Project
Business Law
Innovation & Commercialization
Business Strategy
Organisational Behaviour
Developing Individual, Team & Organisation
Global Business Environment
Operations & Project Management
Understanding & Leading Change
Research Project
Final Year
Global Business Strategy & Sustainability
Innovation & Social Entrepreneurship
Corporate Governance & Business Ethics
Business Analytics
Organisational Design & Development
Business Strategy Project
Mode of Assessment: Assignments / Examinations / Presentations
Medium     : English Medium
Entry Requirements
– GCE (A/L) 3 passes – any Stream with English and Mathematics at O/L OR
– GCE (O/L) with a Degree Foundation Course OR
– Certificate in HRM / Business Management from HRMI / IPM / NIBM OR equivalent OR
– GCE (O/L) with English & Mathematics and 2 years work experience
PART TIME BATCH: English Medium : Sundays from 8.45 am to 4.30pm
(Duration 30 Months)
COMMENCEMENT: 
 Registration Fee
 Rs. 25,000 (Including E-library Fee) and
 University       Registration Fee
 GBP 750 – to be paid at the beginning of 23rd month from   course commencement  (Direct Payment to the University by   the Student) and
  Course Fee: (Please select one) 
  Option 1
 Pay Monthly = Rs. 39,000 x 30 installments : Rs. 1,170,000
  Option 2
 Pay Annually= Rs. 375,000 x 3 : Rs. 1,125,000
  Option 3
 Pay in Full   = Rs. 1,055,000
Social Security Contribution Levy (SSCL) of 2.5 % would be charged on all above fees except for direct payments made by students to the University
Please call for more details:
076 828 7007 / 077 2204101 / 071 2 724425