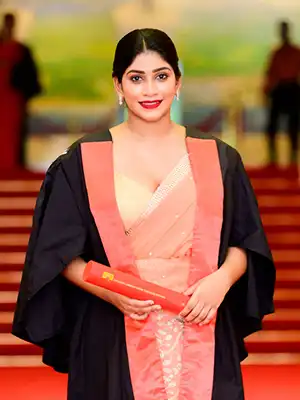 DIPLOMA IN BUSINESS MANAGEMENT
Why Parents and Students should consider this Pathway? This Diploma in Business Management is the Fast-Track option for young and ambitious students to complete a Degree in a record time. Students effectively waste 3 years or more waiting for results, engaged in A/L studies and delays in school functioning for many reasons.
The Pathway On completion of the Diploma in Business Management, students will seamlessly progress to the Higher National Diploma (HND) equivalent level and thereafter to the Bachelor's Degree Final Year.
In an era of uncertainty and challenge, pursuing a Business Management Diploma with multiple progression options is advantageous. Moreover, the student need not waste time and money pursuing short duration foundation or certificate courses.
Progression Opportunities Choose any one of the following Degrees
Completion Time: 24 months
• BSc (Hons) Human Resource Management and Organisational Behaviour
• BSc (Hons) Business Management and Strategy
• BA (Hons) International Tourism Management
• BA (Hons) International Logistics & Trade Finance
• BSc (Hons) Project Management
• BSc (Hons) International Accounting
• BSc (Hons) International Banking and Finance
• BA (Hons) Marketing Management
• 'READY FOR EMPLOYMENT' with GURANTEED INTERNSHIP TRAINING provided for all the students
Course content:
1. Business and the Business Environment
2. Marketing Essentials
3. Human Resource Management
4. Management and Operations
5. Management Accounting
6. Managing a Successful Business Project
7. Business Law
8. Innovation and Commercialization
Entry Requirements
–  GCE (A/L) at least 2 passes (any stream) with English & Maths at O/Ls OR
– GCE (O/L) with at least 2 years work experience for Adult Candidates OR
Schedule: Sunday Batch : 8.45 am to 4.30 pm
Duration:  12 months
COMMENCEMENT : 07th January 2024
HRMI Registration Fee : Rs. 25,000 (Including Elibrary Fee)
Course Fee : Rs. 17,500 x 12 installments = Rs. 210,000
Social Security Contribution Levy (SSCL) of 2.5 % would be charged on all above fees except for direct payments made by students to the University
Educational support facility from banks: 
- Mr. Sudesh, National Development Bank : 077 350 1198
Please Call: 077 2204101 / 071 2 724425