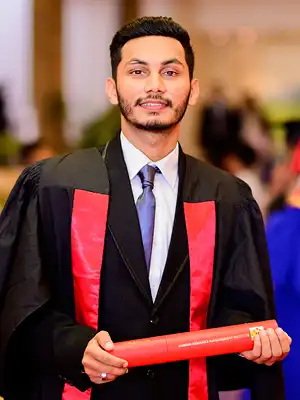 PROFESSIONAL DIPLOMA IN HUMAN RESOURCE MANAGEMENT – with Counselling & Psychology 
for School Leavers – Duration : 18 months 
Students who have completed their GCE Advanced Level studies now have a great opportunity of directly enrolling themselves in Diploma in Human Resource Management with Counselling & Psychology. This Diploma Pathway has several advantages:
# 1 Advantage: PROGRESSION OPPORTUNITIES
a) Progression to BSc (Hons) HRM and OB Degree
b) Progression to BSc (Hons) Business Management and Strategy Degree
complete the Degree in 18 months
# 2 Advantage: HR WITH COUNSELLING AND PSYCHOLOGY  This is the only HR Diploma available in Sri Lanka with an exhaustive content of Counselling and Psychology. This knowledge is essential for understanding and managing people and hence provides valuable insights for all HR professionals to function more effectively.
# 3 Advantage: SAVE TIME & MONEY – This programme admits students to the Diploma stage soon after A/L.
# 4 Advantage: COMPREHENSIVE CONTENT – The Content of the Diploma includes 40 topics – comprehensively covered over 400 hours of teaching, far exceeding the coverage of comparable professional qualifications.
# 5 Advantage:EMPLOYMENT FOCUSED QUALIFICATION with INTERNSHIP TRAINING This qualification makes you 'Ready for Employment'. Course is designed to equip with all the knowledge to enable the student to take-up a HR Executive position. In order to facilitate employment, HRMI guarantees every non working student an Internship Training opportunity in a reputed company. The recognition of the certificate, classroom learning and the internship experience provides HRMI students a clear advantage in securing employment.
This Qualification is registered under Tertiary and Vocational Education Commission of Sri Lanka
What is Special at HRMI? 
At HRMI, we are committed to supporting students in their academic and professional progression, career advancement, personality and character development. We work closely with a large network of reputed Sri Lankan private sector organizations to enable our students to acquire practical experience through a well-designed programme of internship training. We thereafter assist our students to be professionally employed.
For each and every student, HRMI offers a dedicated personal tutor to sort out any academic related concerns and provide assignment guidance to make sure that the students are able to independently fulfil the requirements of the course of studies.
Lecturers are specifically trained to deliver assignment focused teaching
For every module, Industry experts provide practical management knowhow demanded in assignments. This input is very critical as students lack work experience to answer highly work related assignments.
HRMI provides guaranteed internships to enable non-working students to experience real-life issues which are useful in doing assignments which involve very practical management scenarios.
Teaching quality, academic integrity, learning content, assessment criteria and adherence to compliance standards are critical drivers of academic excellence.
Course contents:
1. Management Module (Part I)

Innovative Management for Turbulent Times

Evolution of Management Thinking

Designing Adaptive Organisations

2. Organisational Behaviour Module

Dynamics of Behavior in Organizations

Personality, Perception and Learning

Group Behaviour : Group Dynamics & Teams

3. HRM Module (Part I)

Functions of Human Resource Management

Human Resource Planning

Human Capital Management

Role & Organisation of HR Function

Role of the HR Practitioner

The Impact of HRM on Performance

Job & Role Design & Development

Resourcing Strategies, Planning & Practices

Recruitment & Selection, Induction & Release

Reward Management

Job Evaluation & Pay Structures

Reward Systems, Contingent Pay & Benefits

4. HRM Module (Part II)

Talent & Career Management

Learning & Development Strategies

Management Development

Processes of Performance Management

Performance Management Applications

Employee Motivation

Leadership Development

5. HR & Strategy Module

Strategic Management & Balanced Scorecards

Strategic HR, HR Scorecards & KPIs

International HRM

6. Industrial Relations Module

Sri Lanka Labour Law & Industrial Relations Practices

Trade Unions and Collective Agreements

Disciplinary Management & Grievance Handling procedure

Safety, Health & Environment: Policies, Procedures & Practices

7. HRM in Practice

Planning & delivering learning events

Practice of Performance Management

Handling Industrial Relations Issues

Ethics in HRM

Human Resource Information System

8. Counselling & Psychology Module (Part I)

Introduction to Counseling & Psychology

Psychology & HRM

Employee Counseling

Emotional Intelligence

Change & Stress Management

9. Counselling & Psychology Module (Part II)

General Psychology, Abnormal Psychology,

Development Psychology

Child Psychology, Health Psychology and

Counselling Psychology

Counselling Skills with Practical Session

Ethical Behaviour of a Counsellor

Counselling to Enhance Productivity

Counselling to Enhance Employee Satisfaction

& Engagement

Counselling Techniques & Underpinning Theories

10. Management Module (Part II)

Organization Environment, Social Responsibility &  Ethics

Foundation of Planning

Communication

Controlling

Managing Change & Innovation

Managing in a Global Environment

Managing Operations

11. Industrial Psychology Module

Introduction to Industrial Psychology

Workplace Diversity

Power & Politics

Conflicts & Negotiations

12. One-day Changemaker Session

13. HR Project Report

#HRCoursesinSriLanka#ProfessionalHRMDiploma#HRMI#

#HRCoursesinSriLanka#ProfessionalHRMDiploma#HRMI#

#HRCoursesinSriLanka#ProfessionalHRMDiploma#HRMI#

#HRCoursesinSriLanka#ProfessionalHRMDiploma#HRMI#

#HRCoursesinSriLanka#ProfessionalHRMDiploma#HRMI#

#HRCoursesinSriLanka#ProfessionalHRMDiploma#HRMI#
Medium     :  Sinhala / English – Mixed Medium
Entry Requirements– GCE (A/L) at least 2 passes (any stream) with English & Maths at O/Ls OR- GCE (O/L) with at least 2 years work experience OR- Foundation / Certificate in HRM from HRMI/ NIBM / CIPM or equivalent
Schedule: Sunday Batch : 9.00 am to 1.15 pm
Duration:  18 months
COMMENCEMENT :    
Registration Fee : Rs. 10,000
Course Fee : Rs.10,000 X 18 Installments
Social Security Contribution Levy (SSCL) of 2.5 % would be charged on all above fees
 Please Call: 077 2204101 / 071 2 724425